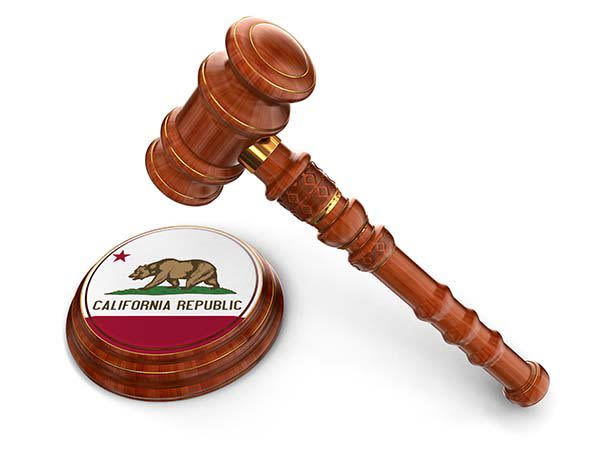 A LAW IN CALIFORNIA ADDRESSES FATAL NURSING HOME CASES OF COVID-19
---
A California law was enacted in late September 2020 in response to the concerns that state health agencies were too slow to respond to coronavirus outbreaks in skilled nursing facilities because of a lack of timely information elevated to these agencies. Since the COVID-19 pandemic has hit nursing homes very hard, Governor Gavin Newsom had little choice but to respond by signing into law AB 2644. This law requires that Californian skilled nursing facilities must report disease-related deaths within 24 hours to the proper health authorities during declared emergencies.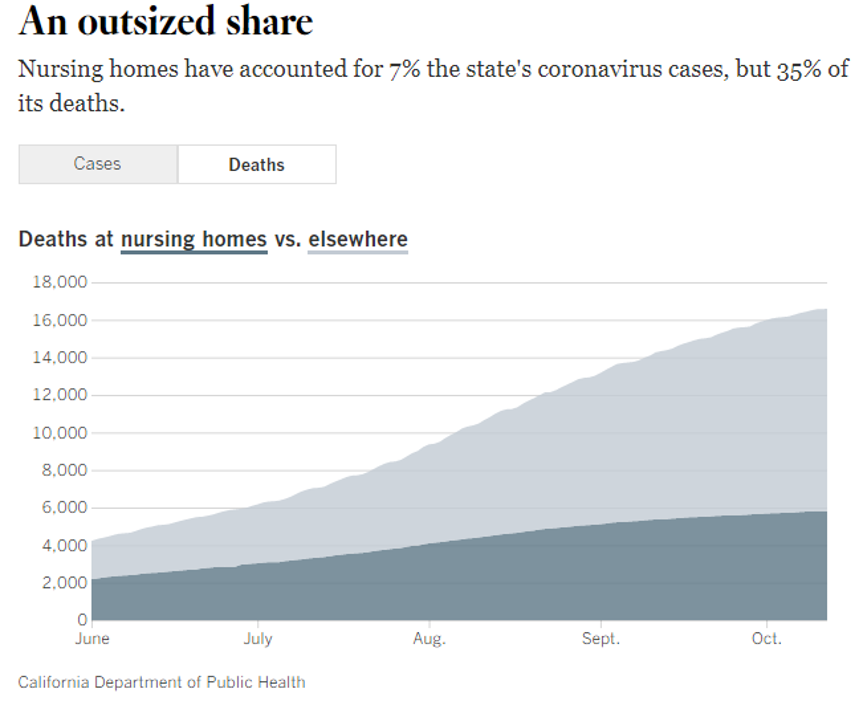 Assembly member Jim Wood (D-Santa Rosa), who introduced the legislation, was quoted as saying that the COVID-19 percentages reported: "reveals the significant weaknesses in the reporting system currently required by these facilities." More than 5,630 residents and staff have died from COVID-19, accounting for 36 percent of the state's fatalities from the coronavirus. The Los Angeles Times reports on October 13, 2020, that COVID-19 deaths are heavily prevalent in the elderly, with 5,811 deaths accounting for 35 percent of the state's total.
According to the California Department of Public Health, there have been outbreaks at some 1.164 nursing homes and 379 assisted living facilities in the state. And while it is known that the death toll is particularly worse for the elderly and those with underlying medical conditions, the quickness with which the coronavirus spreads within the facilities is alarming health officials.
The Centers for Disease Control and Prevention (CDC) have published guidelines for COVID-19 infection control at the federal level. In contrast, the Centers for Medicare and Medicaid (CMS) have recently revised guidance protocols for broadening nursing home visitation rules. CMS's initial effort to implement severe visitor restrictions to slow the spread of COVID-19 was at a high cost to nursing home residents' overall well-being. Increasing the number of visitations will bring new challenges as skilled nursing facilities balance the possibility of infection with the negative effects of isolating patients. Nursing homes will have to comply with the new CMS visitation guidelines or risk the chance of citations and other penalties as CMS deems appropriate for failure to comply.
The federal guidelines, which assess penalties for non-compliance, further complicate California's ability to manage COVID-19 outbreaks in skilled nursing home facilities properly. Yet, non-adherence to the new state law also has consequences. Recording infectious disease deaths in nursing homes must now be compiled into a weekly report to the California Public Health Department's website. Notifications to facility residents and their families of any coronavirus outbreak at the facility are mandated.
Still, reporting a coronavirus outbreak at a California facility must protect an individual's (resident or staff) right to privacy. However, the reporting of an outbreak of infectious diseases, such as COVID-19, in a more timely manner will allow the state's Department of Public Health to respond much more quickly and potentially save lives. The failure of timely reporting in the early months of 2020 contributed to public health agencies' slow response, which led to more significant outbreaks and deaths of COVID-19. The new law's reporting requirements will help the state meet its mandate to send virus infection data to the CDC and alert skilled nursing facilities to the need for infection control during a COVID-19 outbreak within a facility.
It is clear that eldercare facilities, particularly skilled nursing facilities with their highly vulnerable elderly resident populations, turned into COVID-19 deathtraps. These hotspot environments will be well served by the new law's reporting requirements that will trigger California public health departments to address each facility's outbreak immediately.
Nationally and by state, there has not been a perfect response to the coronavirus pandemic. Best practices include timely and accurate reporting of outbreaks, death, and transparency in that accumulated data. When a virus is unseen, it is most difficult to combat. If data about the virus remains unseen, it is a recipe for unnecessary death. Let's hope the new California state law that accelerates the reporting of deaths due to infectious disease at skilled nursing facilities will save more lives.
We hope you found this article helpful. Please don't hesitate to reach out with any questions