THE ELDER & DISABILITY LAW FIRM IS OFFERING WEBINARS TO HELP YOU LEARN WHAT IS CHANGING AND HOW TO QUALIFY FOR MEDI-CAL AFTER JULY 1ST!
---
Date: Multiple Dates
Time: 10:00AM to 11:00AM (PDT)
The Elder & Disability Law Firm is hosting four webinars via Zoom throughout May and June to discuss upcoming Medi-Cal changes. These are free webinars and require you to register in advance to secure your spot.
The topic for these webinars is to inform our clients, referrals, and our community on the upcoming Medi-Cal changes to eligibility requirements. Attorney Esther Wang will review, in detail, the upcoming changes to Medi-Cal which will be implemented on July 1, 2022. She will also discuss how these changes may affect Medi-Cal recipients, applicants, or their family members.
Please use the links below to register for your preferred webinar. We look forward to seeing you there!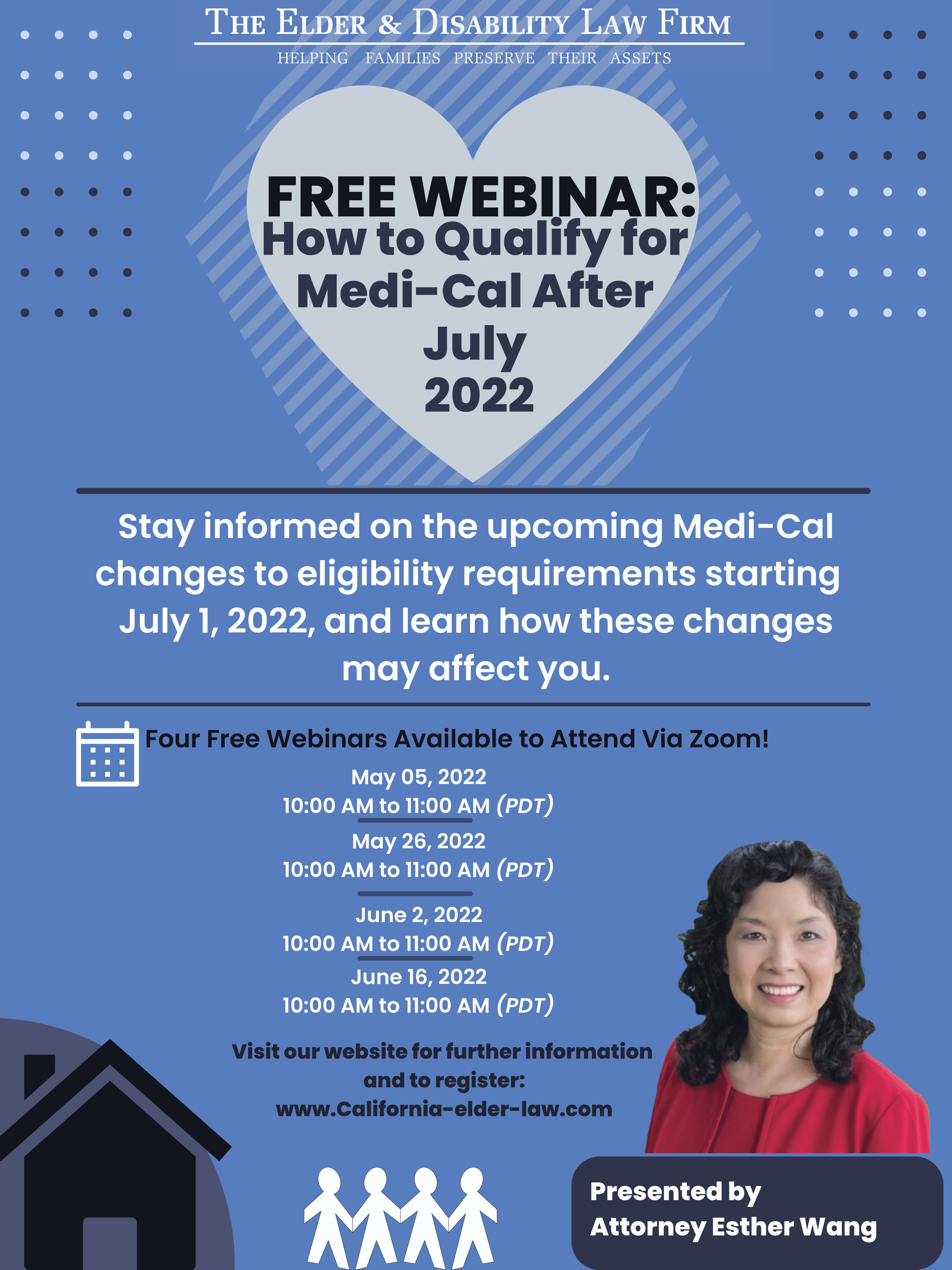 First Free Webinar: How to Qualify for Medi-Cal After July 2022May 5, 2022 10:00 AM Pacific Time (US and Canada)Register for 5/5/22 Here
Second Free Webinar: How to Qualify for Medi-Cal After July 2022May 26, 2022 10:00 AM Pacific Time (US and Canada)Register for 5/26/22 Here
Third Free Webinar: How to Qualify for Medi-Cal After July 2022Jun 2, 2022 10:00 AM Pacific Time (US and Canada)Register for 6/2/22 Here
Fourth Free Webinar: How to Qualify for Medi-Cal After July 2022Jun 16, 2022 10:00 AM Pacific Time (US and Canada)Register for 6/16/22 Here